The international project G-Cubes, captained by the swiss artist Harald Reichenbach, made a stopover in Las Palmas of Gran Canaria last October with the objective of, in the context of his peculiar round the world, collect marine debris and turn it into pieces of art of economic value as a way of raising awareness of the global issue of marine pollution by our debris. Marine Debris will be then something to talk about in the art galleries, as a global environmental problem that does not recognize borders, neither by sea, nor by land.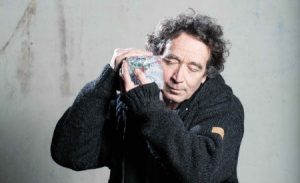 Harald Reichenbach, aware of the seriousness of the problem that the marine debris poses, began on September 21 a voyage around the world on board the O'Deline sailboat. During the next 17 months, and covering more than 30,000 nautical miles, it has been set as a mission to collect garbage from hundreds of beaches and coasts in order to transform it into unique artistic pieces: the G-cubes.
The final destination of these pieces, in the form of cubes, will be an exhibition of more than 1,000 G-cubes (G – for garbage), each of them georeferenced, a reflection of the marine rubbish that threaten the oceans around the world.
We were lucky to see a subsample of this final piece of art in the form of several G-Cubes that the pupils from the Primary School Sta Catalina have developed during Haralds' visit. This way, and thanks to the collaboration of the environmentalist NGO Ecologist in Action, this research groups and the MICROTROPHIC project, some results of the scientific community were presented in the final event in Las Palmas regarding marine pollution due to marine waste, with special emphasis on microplastics.